Burial At Thebes
[originally posted on 25 Oct 2008]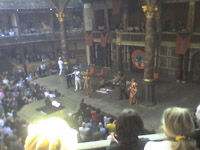 How terribly remiss of me! A couple of weeks ago I went with three other Daves (Dave Hodgkinson, Dave Dorward and Dave Mannsåkker) to see Burial at Thebes - a new opera, libretto by Seamus Heaney, music by Dominique Le Gendre, a Carribean composer - at the Globe. It sets to music Heaney's well-regarded translation of Sophocles's Antigone. It's splendidly tragic.
I enjoyed it. The professional reviewers didn't. They didn't like the music. Probably because it didn't use a vast orchestra and a hundred wailing sopranos all wobbling frantically in a doomed effort to find the right note.
If you're an actual musician, with a broad mind and catholic tastes (hell, there's even a litle bit of rapping in here, when King Creon talks about the duties of the individual and the state - so it's the good kind of rapping, as opposed to illiterate shouty shit) then you should go and see this if you get the chance. It was planned to also play in Liverpool and Oxfnord after the two London shows, but because I've been so goddamned slack, those shows have probably already been and gone. Ah well, it's bound to surface again at some point. Perhaps in twenty or so years when the fuddy-duddies currently getting paid for writing reviews have had the good manners to Fuck Off And Die.
update: It seems that the Independent's reviewer hated it a bit less than the others. He still gets it wrong though - for example, he praises the singing of the Minister of the Admiralty (who was good) but doesn't praise the singing of Creon (who was better). But particularly of note is that he says "the orchestral score was deft and atmospheric", so at least we have one reviewer with a musical Clue. This guy's main criticism is of Derek Walcott's direction. I didn't think it was too shabby myself, but I can see why he would think like he does. So, maybe just another 15 years to wait for a re-run instead of 20.